Fitur Automatic Level Leica Jogger 32
Automatic Level – Fit for Work
The Leica Jogger 32 is the ideal partner for all your daily levelling tasks, including: Building and Civil Engineering, Profiling,  Landscaping &  Area Levelling.
Great features and great performance
32x magnification. Automatic, air-damped compensator. Smooth, double-sided endless fine drive for easy and precise targeting. Horizontal circle with 360° division.
Quality and Endurance
Water resistant (IP54) for instrument use under harsh environmental conditions. 1 year warranty and access to the worldwide Leica Geosystems network of service and support centres.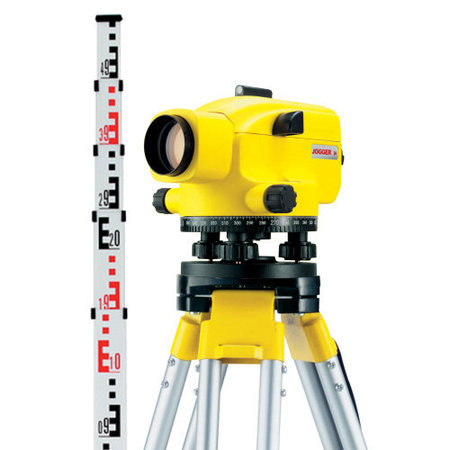 Great Jogger package
Tripod and staff are important parts of any levelling equipment. Get better results with approved original Leica Geosystems tripods and staffs. This package includes a tripod and staff but if you require the level only please see our 
Leica Jogger level-only package
.
Our most economical Automatic Level designed specifically for general construction applications.
Spesifikasi Automatic Level Leica Jogger 32
Leica Jogger Technical data
Leica Jogger 20
Leica Jogger 24
Leica Jogger 28
Leica Jogger 32
Standard deviation per 1 km double-run level
2.5 mm
2.0 mm
2.0 mm
2.0 mm
Magnification
20x
24x
28x
32x
Shortest focusing distance
1 m
1 m
1 m
1 m
Compensator
Working range
Setting range
±15′
0.5″
±15′
0.5″
±15′
0.5″
±15′
0.5″
Operating temperature
-20°C to +40°C
-20°C to +40°C
-20°C to +40°C
-20°C to +40°C
Weight (net)
1.5 kg
1.5 kg
1.5 kg
1.5 kg
Leica Jogger 32 Package:
1 No. Leica Jogger 32 Automatic Optical Level
1 No. Hard ABS Protective Case
1 No. Adjustment Screwdriver
1 No. Adjustment Allen Key
1 No. Instruction Manual
1 No. 12 Month Warranty
1 No. Aluminium Tripod
1 No. Aluminium 5m Levelling Staff
Standar Accesories:
1x Unit Automatic Level
1x Alumunium Tripod
1x Levelling staff / Rambu Ukur
Jual Automatic Level Leica Jogger 32  dengan harga ekonomis/terjangkau dan cari produk lainnya dari kategori Automatic Level. Gratis biaya pengiriman untuk wilayah jakarta dan dapat dikirim ke seluruh Indonesia.
Dapatkan hanya di toko online alat survey CV. AMS, belanja online mudah dan aman terpercaya terlengkap di indonesia.
Brosur Automatic Level Leica Jogger 32